Andy Warhol expo in Bydgoszcz, Poland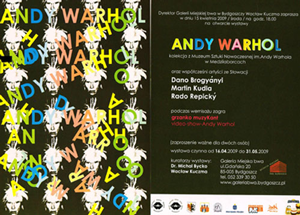 Over forty works by Andy Warhol are on display in the 'bwa' City Gallery in Bydgoszcz, northern Poland.
Even though the exhibition does not include the artist's best known works, such as 'Marylin Monroe' or the Campbell's soup cans, they provide good insights into Warhol's art," the director of the 'bwa' Gallery, Waclaw Kuczma, told the Polish Press Agency.
The works are on loan from the Warhol Museum in Medjaborce in eastern Slovakia, from where the artist's parents emigrated to the United States. The works were earlier shown in Italy and will travel to the United Arab Emirates in near future.
Source: Polish Press Agency, the 22 April 2009